Sample Grinding Machine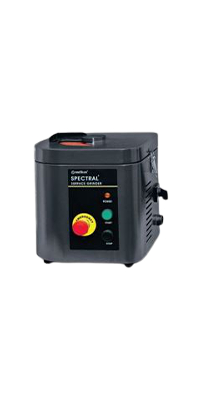 SPECTRAL 250 is a table-top portable surface grinder for the preparation of steel samples for spectroscopy. Its compact design with vibration free operation makes it a practical instrument to work with. Low noise and dust generation levels as well as standard outlet for dust exhauster are additional advantages.
Sample preparation of metals and materials have become more and more important because of the rapid development and improvement of both software as well as OES and XRF-devices during the past few years that shifts the detection limit for trace analyses. It is crucial to have the sample properly prepared. The sample needs to be both representative, homogeneous and with an even surface in order to eliminate factors that can influence the results.
Accessories
Magnetic Type Sample Holder.
Used to hold magnetic samples.
Mechanical Type Sample Holder.
Used to hold non-magnetic samples.